ROOS WIND FARM
Roos Wind Farm lies between the villages of Roos and Burton Pidsea in the East Riding of Yorkshire. It comprises nine turnines, with associated infrastructure such as access tracks, meterological mast and control room.  

Roos Wind Farm was granted planning consent following a Public Inquiry in May 2010. Construction began on site in January 2012 and took approximately 18 months to complete. Now fully operational, the wind farm can generate up to 17.1 megawatts (MW) of renewable electricity, which for comparison is roughly equivalent to the average annual consumption of 11% of all the homes in the East Riding of Yorkshire.*
The location of Roos Wind Farm is shown below (click for a larger view):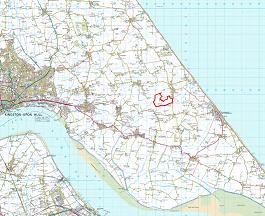 © Crown copyright, All rights reserved. 2010 Licence number 0100031673
*The homes equivalent figure has been calculated based on the predicted electricity generation of the wind farm and dividing this by the annual average electricity consumption figure of 4128kWh from the Department of Energy and Climate Change 2013. The result has then been compared with 2011 Census data for the number of homes in the East Riding of Yorkshire.